Mysterious Orb In Leonardo Da Vinci's Painting Salvator Mundi Investigated
|
Last Updated on
Conny Waters – MessageToEagle.com – Scientists are now able to shed more light on the mysterious orb depicted in Salvator Mundi, a painting created by Italian Renaissance artist Leonardo da Vinci.
The painting Salvator Mundi, once time believed to have been destroyed was most likely commissioned for King Louis XII of France and his consort, Anne of Brittany. Dated to around 1500 C.E., it depicts a half-length figure of Christ as Savior of the World, facing front and dressed in Renaissance-era robes. Christ holds a crystal sphere in his left hand and offers benediction with his right. The orb represents the 'celestial sphere' of the heavens.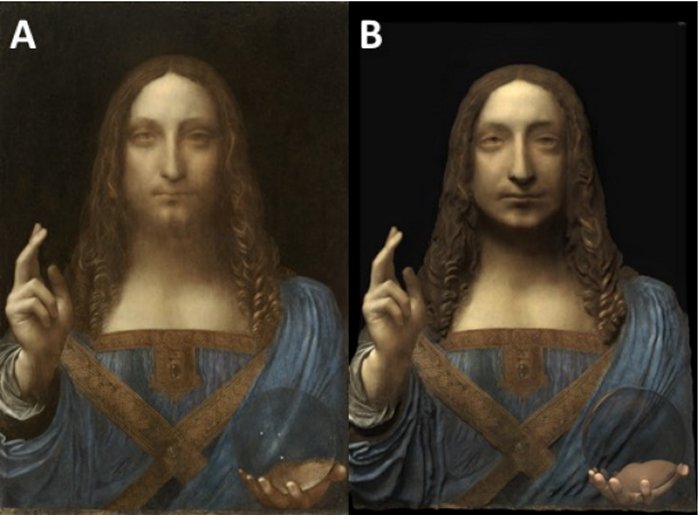 (A) The Salvator Mundi (public domain image). (B) A PBR rendering of the Salvator
Mundi using a hollow orb. Credit: Laing et al., arXiv.org, 2019
Although centuries old, it was rediscovered, restored, and authenticated only recently. When it sold in 2017 for $450.3 million, it became the most expensive painting ever sold.
This particular sphere has now been analyzed by scientists from the University of California. The goals was to examined whether the sphere is solid or hollow. Researchers did a computer analysis and an advanced 3D rendering reveals that da Vinci's orb is in fact a hollow glass object.
"Our experiments show that an optically accurate rendering qualitatively matching that of the painting is indeed possible using materials, light sources, and scientific knowledge available to Leonardo da Vinci circa 1500," write the researchers in their paper.
"Since its rediscovery, a debate has arisen as to whether the translucent orb in the painting was rendered accurately. Even though the painting dates to a period when Leonardo da Vinci was studying optics, several observers have commented that the orb is not rendered as it should were it a solid glass or crystal orb, which would invert and magnify the subject's robe behind the orb and obscure the subject's palm," scientists explain in their paper.
See also:
Hidden Drawing Beneath Leonardo Da Vinci's Painting Virgin Of The Rocks And Unknown Handprints Discovered
The Battle Of Anghiari – Lost Painting Of Leonardo Da Vinci – One Of Art History's Greatest Mysteries
Did Leonardo Da Vinci Invent Contact Lenses In 1508?
According to the results of the new studies, the orb had a radius of 6.8 centimeters (2.7 inches) and was 25 centimeters (9.8 inches) in front of the subject of the painting. The sphere was not more than 1.3 millimeters (0.05 inches) thick, the analysis suggests.
Da Vinci was an intelligent Renaissance man who was not more than an artist. He was a man who pursued scientific knowledge and he was acquainted with the science of optics and lights.
Da Vinci Had Scientific Knowledge Of Optics
"Given our experimental results, a natural question is whether Leonardo da Vinci had access in 1500 to the materials, light sources, and scientific knowledge of optics represented in configurations we used with the Mitsuba PBR to generate images similar to the painting, Salvator Mundi.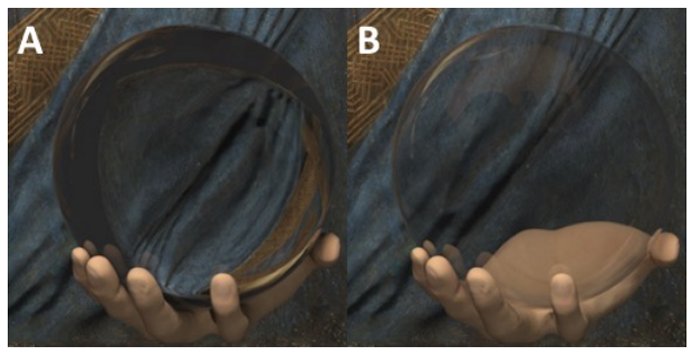 (A) Rendering of a solid orb. (B) Rendering of a hollow orb. Credit: Laing et al., arXiv.org, 2019
Fortunately, besides being an artist, Leonardo was also a scientist who kept copious notes, much of which have survived, and these notes shed light on this question. Indeed, a recent volume, Leonardo da Vinci and Optics, is devoted to studying the relationship between optics and the paintings of Leonardo," researchers write in their paper.
Scientists say the latest study offers evidence Da Vinci understood "optical properties of hollow balls and how to avoid distracting optical distortions from the rendering of the folds of the subject's robe."
In addition, "Leonardo had access to the materials, light sources, and scientific knowledge necessary to create configurations that our experiments show can produce images similar to how the orb is rendered in Salvator Mundi," scientists conclude.
Written by Conny Waters – MessageToEagle.com – AncientPages.com Staff Writer