Alien Sarcophagus On Mars Could Be Evidence Of Ancient Martian Civilization – Or Maybe Not?
|
Cynthia McKanzie – MessageToEagle.com – It's not the first time UFO hunters say there are peculiar ancient structures and artifacts on Mars. This time, UFO hunter Scott C. Waring says he has spotted an ancient alien sarcophagus on the Red Planet, and he thinks it's proof of an ancient Martian civilization.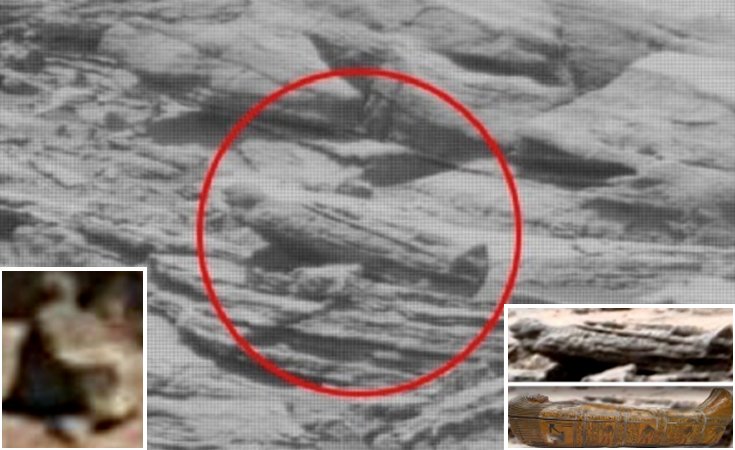 Image compilation – MessageToEagle.com
He has previously UFO Sightings blog, Waring explains NASA's pictures reveal not only one, but three sarcophagus.
Two had fallen the other direction and only one had fallen towards us, which allows us to see its lid. The lid of the sarcophagus has a figure of person on it. It's easy to make out the head, shoulders and body on top of the lid," Waring wrote.
As Sputnik reports, "Waring also claimed that he found "loads of other ancient artefacts" in the picture, including "some ancient pillars, structures and many other objects that clearly were made by intelligent beings", as well as "a sitting figure of a person".
"The culture seems to have ended during a time similar to Earths moment in history before the great pyramids were made", he speculated.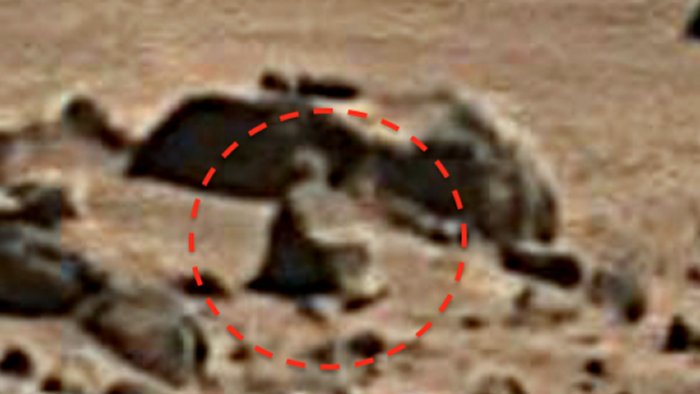 Waring says this is a "sitting figure of a person." Credit: Scott C. Waring
Waring has previously made other claims, including the idea that there are ancient structures on asteroid Bennu, which we covered in our previous article dealing with the possibility that unusual asteroids could be extraterrestrial space stations.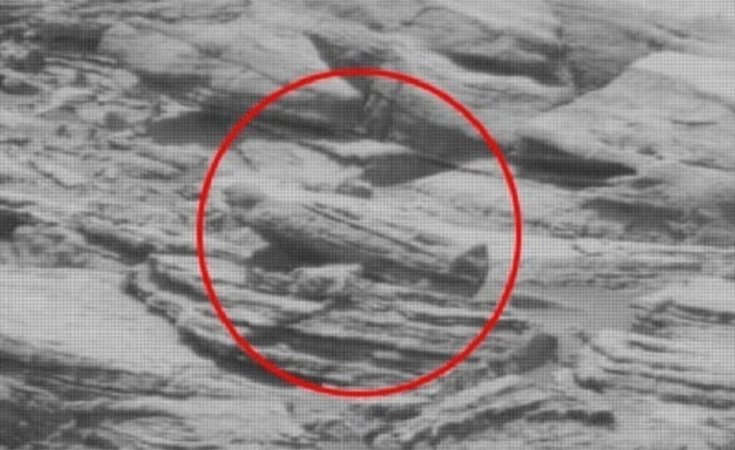 Credit: NASA . JPL-Caltech/MSSS
In a video on the Mister Enigma YouTube channel a computer-generated narration said: "Something remarkable has been found in a Mars rover photo.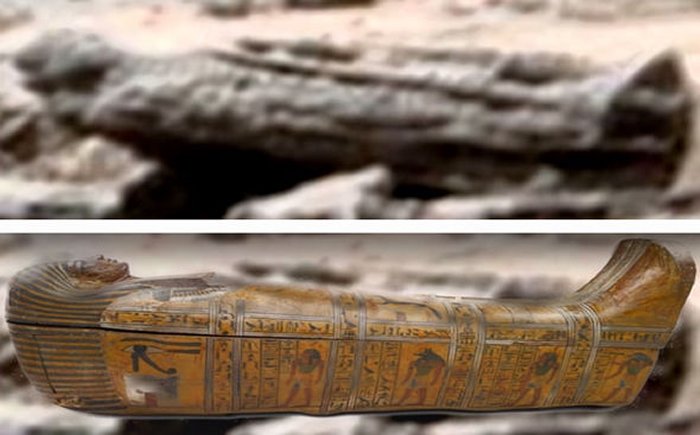 Mister Enigma has compared the shape to an ancient Egyptian sarcophagus from Earth. Credit: Mister Enigma
"If we zoom into this NASA image, we will see what appears to be some kind of sarcophagus laying on the edge of a cliff.
"It is awfully close to what the Egyptians used to use to encase mummies after death."
So, are we really seeing ancient structures left by an Martian civilizations?
NASA is not convinced these images are proof of an alien civilization, and the agency thinks Waring is suffering from pareidolia, a psychological phenomenon where people see recognizable shapes in clouds, rock formations, or otherwise unrelated objects or data.
See also:
UFOs Are Time Machines From The Future – Our Distant Descendants Study Us – Professor Says
Extraterrestrial Watchers And Dangerous Interstellar Signals
Alarming Dark Forest Theory Explains Why We Cannot Contact Extraterrestrials – Bizarre Or Realistic Scenario?
Some think Waring's ideas are far-fetched and ridiculous, but many also think traces of extraterrestrial life could be closer than we think, and why not on Mars? His images are controversial and it's up to you to make your own opinion what you see – rocks or ancient alien structures.
As previously reported on MessageToEagle.com, Jason T. Wright, an astronomer from the Pennsylvania State University suggested that highly advanced extraterrestrial civilizations might have lived on Earth, Mars and even Venus billions of years ago.
Why these extraterrestrial civilizations vanished without a trace is unknown, but we could find proof of their advanced technology in our solar system.
Scientists have previously made clear that we should also not dismiss the possibility that ET artifacts could exists close to our planet and some alien devices might even observe us. One of the reasons we have not found such alien artifacts is because we have not looked in all places, scientists from the Penn State University say.
Written by Cynthia McKanzie – MessageToEagle.com Staff Writer