Gargoyles – Mysterious Ancient Fearsome Creatures Warding Off Evil
|
MessageToEagle.com – Gargoyles are depicted with many fearsome faces. They grin and leer down from roofs and towers of medieval churches and have been present there for centuries warding off evil. They decorate great churches and cathedrals of the British Isles, Ireland, and other European countries.
It is traditionally believed that gargoyles were created during the medieval period.

However, their history goes far beyond that time to the very beginnings of art, when man created demons to scare away demons. Many examples of these creatures have been found in ancient civilizations as well.
The use of decorative water spouts was known to the ancient Egyptians, Etruscans, Greeks and Romans  and gargoyle-like carvings have been found in other parts of the world, especially in countries that were influenced by European culture and tradition such as Mexico.
They have appeared in a number of different images and figures and it is said that no two gargoyles are identical, but no-one seems to know why.
They were seen on the roofs of Egyptian temples where their mouths served as a spout for water. Also Greek temples were decorated with gargoyles in form of lions and other animals.
Later, these creatures became strictly ornamental and assumed many forms such as dragons, devils, demons, half-human and half-animal as well as caricatures of real people or classes of people.
The name 'gargoyle' is often attributed to St. Romanus, the Archbishop of Rouen.

According to legend, he saved his country from a monster by the name of Goji, sometimes called 'Gargouille'. La Gargouille is said to have been a legendary dragon with batlike wings, a long neck, and the ability to breathe fire from its mouth, that lived in a cave near the Seine River in the 7th Century and was ravaging the town and people of Rouen. It was slain by St Romanus, the Archbishop of Rouen. After the dragon was slain its body was set ablaze, its body was consumed by fire but the head and neck survived and was mounted on a building.
Supposedly the monster was so scary looking that it frightened off evil spirits. This led to some calling the monster a protector and placing similar carved figures on churches and other important buildings.
Originally the term referred only to the carved lions of classical cornices or to terra-cotta spouts, such as those found in the Roman structures at Pompeii.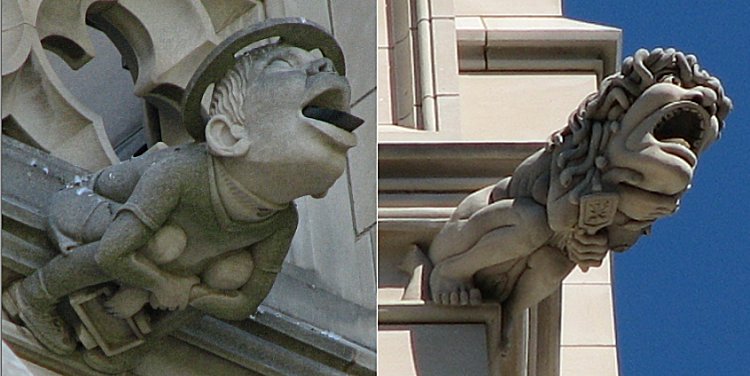 The word later became restricted mainly to the grotesque, carved spouts of the European Middle Ages.
It is often – but incorrectly – applied to other grotesque beasts. Gargoyles always have drainage conduits, other carved beast depiction have not.
What's important is, not all grotesques are gargoyles, but all gargoyles are indeed, grotesques.
A French abbot , St. Bernard of Clairvaux (1090 – 1153) was famous for speaking out against gargoyles most probably didn't fully understand their role, when he wrote:
"What are these fantastic monsters doing in the cloisters before the eyes of the brothers as they read? What is the meaning of these unclean monkeys, these strange savage lions, and monsters? To what purpose are here placed these creatures, half beast, half man, or these spotted tigers? I see several bodies with one head and several heads with one body. Here is a quadruped with a serpent's head, there a fish with a quadruped's head, then again an animal half horse, half goat… Surely if we do not blush for such absurdities, we should at least regret what we have spent on them.." ("Apologia ad Guillelmum abbatem", as part of the 'Library of Latin Texts.')
Even in the United States, gargoyles were used on more modern buildings as a form of decoration, such as the stainless steel versions used on the Chrysler Building in New York City, at Princeton University, University of Chicago and Duke University.

Perhaps the most famous are the gargoyles that decorate the Washington National Cathedral in Washington D.C. – the 6th largest cathedral in the world and likely to be the last Gothic cathedral ever built.
See also:
The Enigma Of People And Gods With Horns In Ancient Times
Legendary Furies – Angry And Monstrous Women Of The Underworld
Incredible Anatomical Human Machines – Two Fleshless Bodies Mystery
It has 112 gargoyles (rain-diversion devices with a spout) and over 1,000 other grotesques (without a spout). When people think of gargoyles, most envision monsters and dragons and the like, but there are also other intriguing and odd figures.
Take a look at them: Washington National Cathedral: 112 Gargoyles
More famous gargoyles from history are those used on Notre Dame de Paris. They reside atop dizzying heights and are often unnoticed by human eyes but ever watchful of our movements. They have 'observed' us by centuries. The gargoyles of the famous Notre Dame Cathedral – half man, half beast – preside over Paris, and have done so since the medieval times.
It is believed that there is no commonly accepted explanation of why these odd carved creatures exist as they do.
Why were these figures actually placed atop the buildings? Did they have a symbolic meaning? Were they used for repelling evil or perhaps only for architectural balance?
Or were they perhaps, as Klaus Schmidt (1953 – 2014) of the German Archaeological Institute in Berlin suggested, "watchmen' of the period", guardians of the ancient religious sanctuaries?
Copyright © MessageToEagle.com All rights reserved. This material may not be published, broadcast, rewritten or redistributed in whole or part without the express written permission of MessageToEagle.com
References:
W.D. Whitney, The Century dictionary : an encyclopedic lexicon of the English language