Large Triangular UFO Observed Flying Over The Popocatepetl Volcano
|
Cynthia McKanzie – MessageToEagle.com –  Once again, a strange unknown object has been observed over the Popocatepetl volcano in Mexico.
Due to its active status, surveillance cameras have been placed around the Popocatepetl volcano to monitor its activities. Interestingly, unknown flying objects have been sighted regularly in the vicinity of the volcano on several occasions.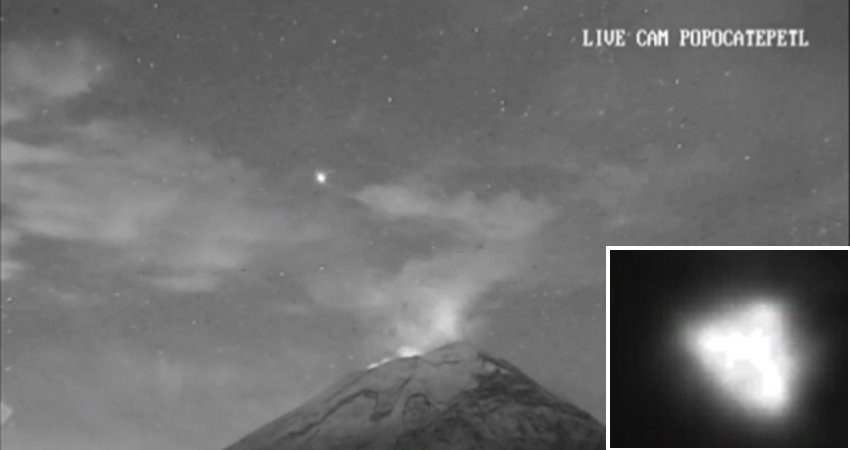 As previously reported, the Popocatepetl Volcano has been showing increased signs of activity in the past couple of weeks and months. Recentyl, several bright objects were seen flying over the volcano.
Now, there has been an unusual new sighting observed over the volcano. UFO expert, Scott C. Waring who runs the ET Database investigated the footage uploaded to YouTube by user Mizz Jade_Eye. In the live video, plumes of steam can be seen rising from the active volcano.
Suddenly, a bright object can be seen flying over the volcano. Based on the video, the object unexpectedly appeared in the sky and flew over Popocatepetl.
See also:
Strange Black Triangle-Shaped Object Observed Near The Sun – A Sunspot Or Something Else?
Astonishing Huge Anomaly Spotted High Above The Earth – What Is This?
Unknown Object Sails Past The Sun At Incredible Speed
Why are so many unidentified flying objects visible near this volcano? Waring says he thinks the volcano is the site of an underground base. According to Waring, underneath Popocatepetl is a base that has been used and visited by extraterrestrials for thousands of years.
"Here is a great example of a triangle UFO passing over the mouth of Popocatepetl, a volcano in Mexico. It has been long believed that this volcano holds an underground alien base 5km below its surface. An ancient civilization of aliens that have existed there for tens of thousands of years.
If we compare the size of the UFO with the mouth of the volcano, we can find its true size. The mouth is about 600 meters across and this UFO is about 1/6 the size of the mouth…that's 100 meters across!
When I added focus and shadows to the UFO, it turns into a triangle craft. Many triangle UFOs have been reported from around the world. The shape of this one is unmistakable…its a triangle.
This is 100% a real alien craft passing over the volcano. Not a single doubt in my mind about this," Waring wrote on his website.
Do you have an image or a video you would like to share with our readers?
Then tell us your story and  contact us
Written by Cynthia McKanzie – MessageToEagle.com Staff Writer