Queen Nefertari – Favorite Wife Of Ramses II The Great And Her Lavishly Decorated Tomb In The Valley Of The Queens
|
Ellen Lloyd – AncientPages.com – In The Valley of the Queens there is a very large and spectacular ancient tomb that belongs to Queen Nefertari (1290–1224 BC).
Nefertari Meritmut, whose name means 'beautiful companion' was the first of the Great Royal Wives of Ramesses the Great and one of the best known Egyptian queens, next to Hatshepsut, Cleopatra, and Nefertiti.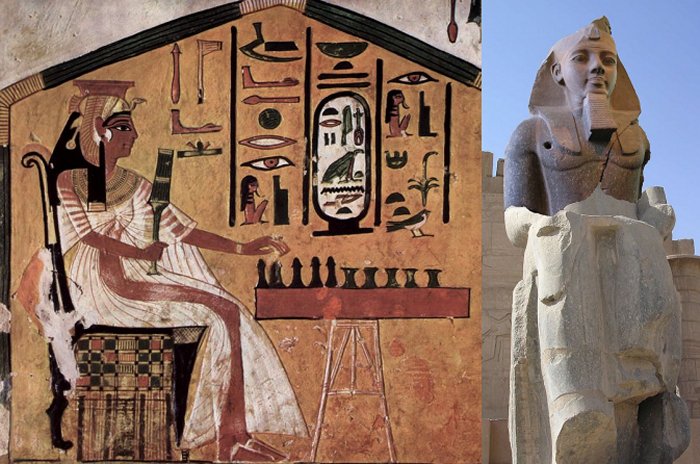 Wall painting of Queen Nefertari playing senet. Credit: Public Domain – Right: Statue of Ramesses II at Thebes. Credit: Wikipedia, CC BY 3.0
Compared to the Cleopatra,  the last active ruler of the Ptolemaic Kingdom of Egypt, or Nefertiti who suddenly disappeared after being elevated to near-equal status by King Akhenaten, Nefertari's life history is not as complicated or mysterious, but nevertheless significant.
Her giant tomb, QV66 offers evidence of her importance and power as the first wife of Ramesses the Great, who was the third pharaoh of the Nineteenth Dynasty of Egypt.