Cynthia McKanzie – MessageToEagle.com –  Are extraterrestrial watching our progress, or rather lack thereof? An unknown flying object has been filmed off the California coast. What could it have been?
Tom DeLonge and his girlfriend were in self-imposed isolation like everyone else Tuesday night when they noticed a weird light dancing over the ocean. After studying it from his balcony, Tom and his girlfriend rushed to the abandoned beach where they gazed at the sky for hours.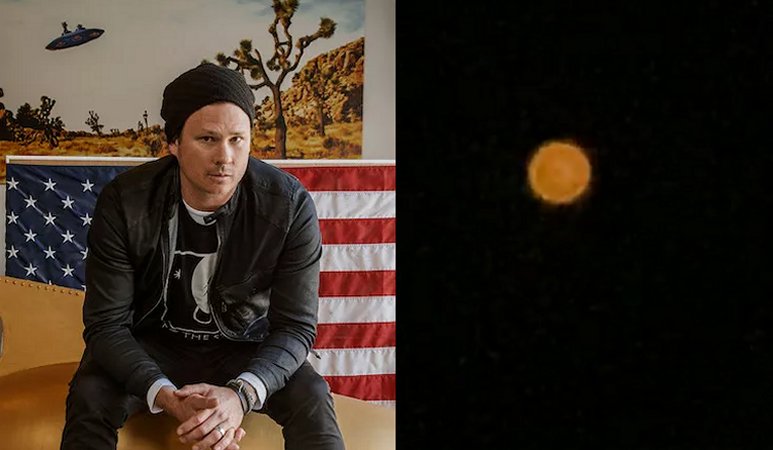 Left: Tom DeLonge. Credit: IHeart – Right: Unknown Flying Object filmed by Tom. Credit: Tom DeLonge
Tom managed to film the unknown flying object and shared the footage with his Instagram followers, along with a detailed description of what he saw.
"So last night I get a text from somebody that there was a UAP right off of the beach where I live," he explained. "I ran to my balcony and saw it split into two pieces and raise vertically. I grabbed Marie, jumped in my truck and went straight down to the beach.
We were the only ones on the beach last night as this light disappeared, reappeared, broke into three pieces and stacked vertically with one little red dot flying around the top and then disappeared for the rest of the evening," Tom wrote.
"This video doesn't show much, but we were up quite late watching the light dance about a half a mile to a mile off of the beach," he continued.
"It was huge, and it was fiery orange. Of course I called up Lue Elizondo as I was there, and he was telling me all of these things I was supposed to do with location, geographic details, weather, altitude and distance etc.
See also:
Extraterrestrial Artifacts Investigated At The ADAM Research Project
Extraterrestrials May Have Visited Earth – Astronomy Professor Says
Extraterrestrial Artifacts In Our Solar System Could Exist And Observe Us – Scientists Say
UFOs Are Time Machines From The Future – Our Distant Descendants Study Us – Professor Says
More About Extraterrestrial Life
Of course, I was completely worthless when it came to those details. But yes, big deal last night in Encinitas, CA. Lue checked immediately, there were no flights in the area except one that I had my eyes on the entire time. No military, no boats, and a bunch of hovering lights that were stacking on top of each other… wild. Who knows…"
Written by Cynthia McKanzie – MessageToEagle.com Staff Writer