Last Updated on
Cynthia McKanzie – MessageToEagle.com – It's not the first time a strange object has been observed near the Sun, but this sighting is different and rather bizarre.
To begin with, the object visible in the SOHO/NASA sun photo website has a different shape. It looks like a Borg cube. If you are a fan of Star Trek you can see the similarities. The second thing making this object unusual is its size. It seems to be as large as our Moon.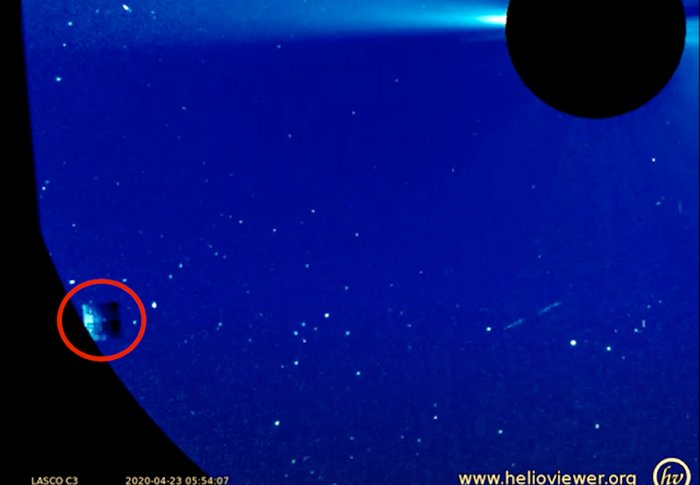 Credit: Scott C. Waring – Date of sighting: April 23, 2020 05:54:07 – NASA solar camera: LASCO C3
Source: https://helioviewer.org
So, what is this "thing" doing near our Sun? Could it be a glitch in programming or pixilation, or is it really a huge extraterrestrial craft?
It looks almost too good to be true.
Scott C. Waring who discovered the object and published the sightings on his website ET Database commented it by saying: "The cube is clearly three dimensional and not a glitch in programing or pixilation. The cube is one of the many spacecraft that shoot around Earth's sun on a daily basis.
This cube and many others have been recorded near our some, some show the 2D view, but occasionally like this one…you get a more 3D view. I'm certain that NASA doesn't tell the public about these UFOs near our sun because they are afraid that the public would panic…but the truth is…these giant UFOs have been there long before humanity had ever been on Earth.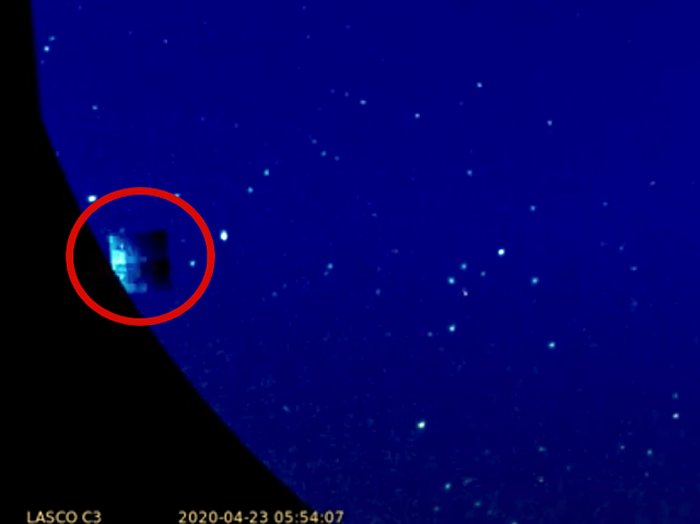 Credit: Scott C. Waring – Date of sighting: April 23, 2020 05:54:07 – NASA solar camera: LASCO C3
Source: https://helioviewer.org
This UFO is about the same size as our moon. Yes its big, and yes it seems impossible for such a ship to exist…because we view it through humanities eyes…our own experiences say its impossible…and it is…but only in our moment in time in evolution. If we came back to earth in 1 billion or even 10 billion years, if humans still existed…then a moon size or even earth size spaceship would be the norm.
Scientists say our universe is 13.5 billion years old and that earth is only 4.5 billion years old, so that leaves 9 billion years for other planets and intelligent life to evolve, grow and expand across the universe. We…are still infants in this universe."
See also:
Advanced Extraterrestrial Civilizations – Their Technology And Capabilities: What Can They Achieve?
Strange Unknown Lights Observed Over The Popocatepetl Volcano
Mysterious Blue Cigar-Shaped Fast Flying Object Crossing The Skies Over Nebraska
Most UFO believers think extraterrestrial craft are saucer-shaped, but we must not dismiss the possibility aliens, if they are our there could use flying vehicles that have other shapes as well.
We cannot identify the 'Borg Cube' spotted near the Sun. It may be a glitch or something much more intriguing, but it's always good to remain open-minded. Maybe "someone" is really out there. Just recently a strange black triangle-shaped object was observed near the Sun. Are these sightings all glitches, or is an unknown extraterrestrial intelligence present near our planet?
Do you have an image or a video you would like to share with our readers?
Then tell us your story and  contact us
Written by Cynthia McKanzie – MessageToEagle.com Staff Writer