Instability Near The North Pole Caused 48 Rare Lightning Discharges
|
Eddie Gonzales Jr. – MessageToEagle.com  – Lightning discharges near the North Pole do occur, but was observed this weekend is quite unusual.
The lightning was detected using Vaisala's Global Lightning Detection network.
According to the National Weather Service and Vaisala, a private company that operates a worldwide lightning detection network as many as 48 lightning discharges were detected within 300 miles of the North Pole on August 10 (02:00 – 04:00 UTC, August 11).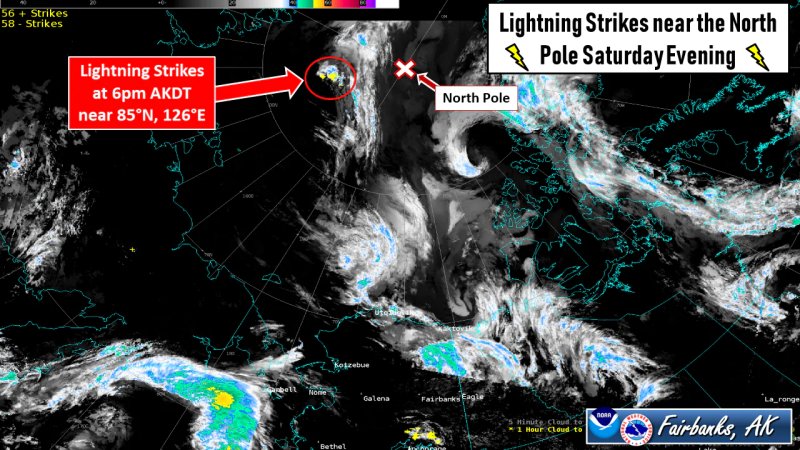 Lightning strikes within 300 miles of the North Pole on Aug. 10. (NWS Fairbanks)
The number is much higher that scientists usually report.
"I wouldn't say it's never happened before, but it's certainly unusual, and it piqued our attention," NWS meteorologist in Fairbanks, Alaska, Ryan Metzger told the Washington Post.
"The lightning strikes mean that the atmosphere near the pole was unstable enough, with sufficient warm and moist air in the lower atmosphere, to give rise to thunderstorms. The loss of sea ice across the Arctic has led to sea surface temperatures that are much above average for this time of year, which may be contributing to unusually unstable air masses being pushed across the central Arctic Ocean," Washington Post reports.
"The maximum number of lightning discharges in any one storm event was 7, typically see 3 or 4 lightning storms north of 80 degrees each summer. We usually detect fewer than 50 discharges in each of these storms," Ryan Said, a research scientist for Vaisala who invented the GLD360 network to track lightning worldwide said.
See also:
Climate Is Warming Faster Than It Has In The Last 2,000 Years
Why Did A Giant Hole Appear In The Sea Ice Off Antarctica?
2 Million 'Hidden' Earthquakes Identified In California – A Quake Occurs Every Three Minutes In The Region
According to the National Snow and Ice Data Center in Boulder, Colo. Sea-ice extent is probably the lowest it has been in at least 1,500 years, based on recent research.
Well, that effectively confirms it. Satellite imagery clearly indicates deep convective clouds capable of producing lightning within 200-300 miles of North Pole along with –actual detected strikes–an extremely rare event. #PolarLightning #AKwx https://t.co/ql0P1QAiJY

— Daniel Swain (@Weather_West) August 11, 2019
Scientists are cautious about interpreting the lightning as an unprecedented event, but it's a rare event. So much lightning really shouldn't be turning up that far north.
Although it will still remain relatively rare, near-polar lightning should become more common as the world continues to boil, Marshall Shepherd, an atmospheric scientist at the University of Georgia thinks we will see more of these "shocking" moments in the near future.
Researchers say the cause of the lightning strikes was due to instability near the pole with ample warm and moist air in the lower atmosphere giving rise to thunderstorms.
Written by Eddie Gonzales Jr. – MessageToEagle.com Staff