Meet SPOT – Robot Dog Deployed To Guard The Ancient Ruins Of Pompeii
|
Jan Bartek – MessageToEagle.com – The main task of this sophisticated robot dog will be to inspect archaeological areas and structures ensuring the ancient site of Pompeii is safe. Built by the Massachusetts Institute of Technology spinoff engineering and robotics company Boston Dynamics, the four-legged robot dog named SPOT has been enlisted to guard the ancient streets and ruins of Pompeii.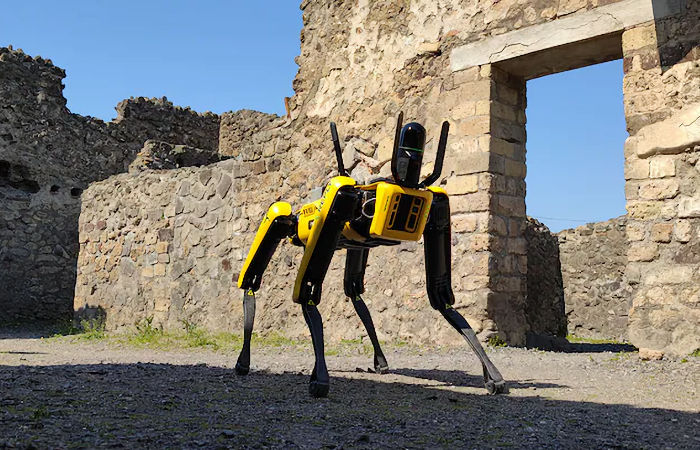 SPOT, a quadruped robot being used to inspect archaeological structures at the Pompeii site in Italy. Credit: Parco Archeologico di Pompeii
Before the devastating eruption of Mount Vesuvius in 79 A.D, Pompeii was a flourishing ancient city with magnificent houses, streets, and shops, but everything would remain lost, forgotten, sealed, and preserved in a time capsule for more than seventeen centuries.
Archaeologists have made tremendous efforts to reconstruct what this ancient site once looked like. Recently scientists presented a unique look inside an ancient home in Pompeii that has been re-constructed with the use of virtual reality.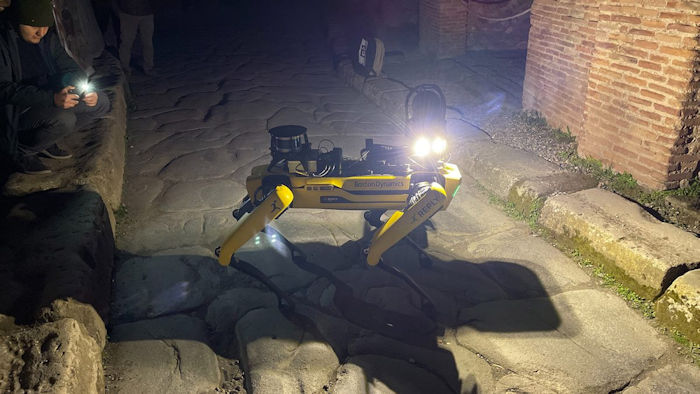 Credit: Parco Archeologico di Pompeii
Archaeologists have excavated at the site for many years and unearthed well-preserved skeletons, a ceremonial chariot, a remarkable Thermopolium with frescoes, food, and jars, and much more.
One of the major problems archaeologists face when excavating at Pompeii is looting. Being a tourist attraction, it happens far too often that visitors take a souvenir from the ancient site. It really doesn't matter whether it's a stone or something more valuable. It prevents archaeologists from creating a more accurate historical overview of Pompeii.
Pompeii has the ambition to become a Smart Archeological Park, but the site's safety has long been questioned. This is the reason why SPOT has been enlisted to do the work for humans.
Equipped with an autonomous, laser-based scanner and a color camera with a 360-degree field of vision, SPOT can see more than we do. In addition to this, SPOT can be accompanied by a flying device to capture 3D scans of the structures.
It's among the first real-world examples of autonomous robots being used in archaeological sites, which are typically more difficult to navigate because of their large size and changing surfaces, according to Pompeii Archaeological Park Director General Gabriel Zuchtriegel. It's part of a broader initiative to preserve the structures of Pompeii, some of which collapsed in 2010, and to modernize the management of the site.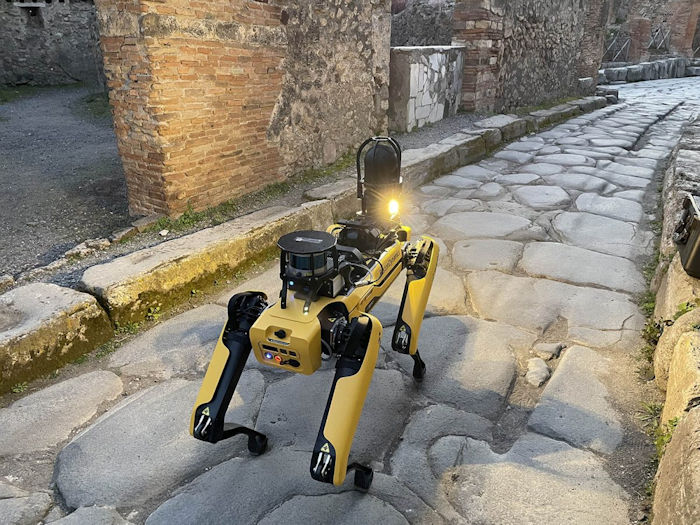 Credit: Parco Archeologico di Pompeii
"The goal is for Spot to walk around Pompeii autonomously, across bricks and dirt, at night and during the day, to monitor existing buildings for structural weaknesses and to assess the progress of restoration work and search digs, especially in areas that could be dangerous to humans, the Washington Post reports.
As reported by Art Net News, "Spot is agile enough to inspect narrow passages and traverse uneven surfaces, and will collect terrain data alongside a laser-scanning drone released to fly over the site and conduct autonomous 3D scans. The robot will also be used to sniff out underground tunnels made by tomb raiders, or tombaroli, that have allowed access to thieves looking for ancient relics to sell to traffickers."
"Technological advances in the world of robotics, in the form of artificial intelligence and so-called autonomous systems, have produced solutions and innovations typically associated with the industrial and manufacturing world, but which until now had not found an application within archaeological sites due to the heterogeneity of environmental conditions, and the size of the site.
Today, thanks to collaboration with high-tech companies and in the wake of these successful experiments, we wish to test the use of these robots in the underground tunnels that were made by illegal excavators and which we are uncovering in the area around Pompeii, as part of a memorandum of understanding with the Public Prosecutor's Office of Torre Annunziata, led by NunzioFragliasso", Director General Gabriel Zuchtriegel said in a press statement.
"Often the safety conditions within the tunnels dug by grave robbers are extremely precarious, as a consequence of which the use of a robot could signify a breakthrough that would allow us to proceed with greater speed and in total safety."
According to the Washington Times, "in 2008, the Italian government declared a state of emergency over Pompeii, which it said was falling apart under the pressures of tourism, poor weather, mismanagement and neglect. In 2010, several of the ancient city's key sites collapsed, prompting UNESCO to strike a deal with Italian authorities to jointly preserve Pompeii, which is one of about 1,100 sites on the World Heritage List."
See also: More Archaeology News
By improving the safety, SPOT can change the future of the ancient site of Pompeii and ensure it this historical place survives and will be somehow persevered for future generations.
Written by Jan Bartek – MessageToEagle.com – AncientPages.com Staff Writer