Two Exoplanets Directly Observed Growing Around A Young Star
|
Eddie Gonzales Jr. – MessageToEagle.com – Astronomers have directly imaged two exoplanets that are gravitationally carving out a wide gap within a planet-forming disk surrounding a young star.
This is only the second multi-planet system to be photographed. The first was a four-planet system orbiting the star HR 8799.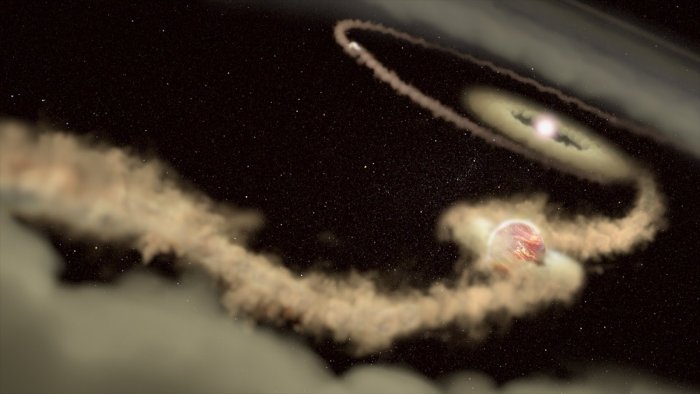 Artist's illustration: two gas giant exoplanets orbiting the young star PDS 70. These planets are still
growing by accreting material from a surrounding disk. In the process, they have gravitationally carved out a large gap in the disk. The gap extends from distances equivalent to the orbits of Uranus and Neptune in our solar system Image credit: J. Olmsted (STScI
"This is the first unambiguous detection of a two-planet system carving a disk gap,"Julien Girard of the Space Telescope Science Institute in Baltimore, Maryland, said.
The host star, known as PDS 70, is located about 370 light-years from Earth. The young 6-million-year-old star is slightly smaller and less massive than our Sun, and is still accreting gas. It is surrounded by a disk of gas and dust that has a large gap extending from about 1.9 to 3.8 billion miles.
PDS 70 b, the innermost known planet, is located within the disk gap at a distance of about 2 billion miles from its star, similar to the orbit of Uranus in our solar system. The team estimates that it weighs anywhere from 4 to 17 times as much as Jupiter. It was first detected in 2018.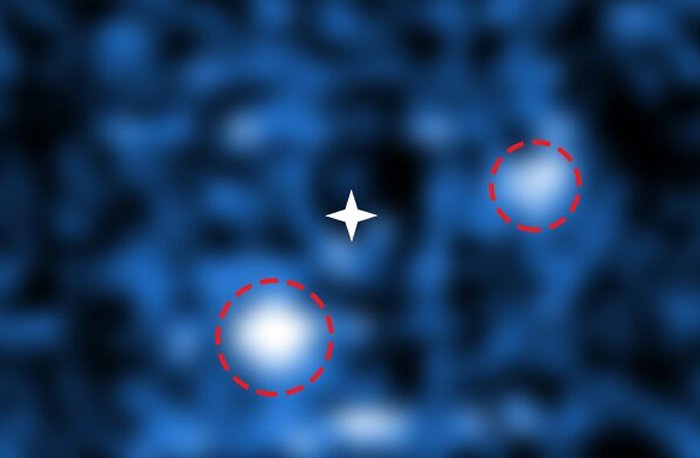 PDS 70 is only the second multi-planet system to be directly imaged. Through a combination of adaptive optics and data processing, astronomers were able to cancel out the light from the central star (marked by a white star) to reveal two orbiting exoplanets. PDS 70 b (lower left) weighs 4 to 17 times as much as Jupiter while PDS 70 c (upper right) weighs 1 to 10 times as much as Jupiter. Credit: ESO and S. Haffert (Leiden Observatory)
PDS 70 c, the newly discovered planet, is located near the outer edge of the disk gap at about 3.3 billion miles from the star, similar to Neptune's distance from our Sun. It is less massive than planet b, weighing between 1 and 10 times as much as Jupiter. The two planetary orbits are near a 2-to-1 resonance, meaning that the inner planet circles the star twice in the time it takes the outer planet to go around once.
"With facilities like ALMA, Hubble, or large ground-based optical telescopes with adaptive optics we see disks with rings and gaps all over. The open question has been, are there planets there? In this case, the answer is yes," explained Girard.
The team detected PDS 70 c from the ground, using the MUSE spectrograph on the European Southern Observatory's Very Large Telescope (VLT).

Written by Eddie Gonzales Jr. – MessageToEagle.com Staff Writer