Unique 3,00-Year-Old Carnoustie Bronze Age Sword With Gold Ornament Discovered In Angus, Scotland
|
MessageToEagle.com – Archaeologists in Angus, Scotland have reason to be excited. They have unearthed a 3,000-year-old spearhead embellished with gold. The artifact was used as a weapon and scientists call it the "find of a lifetime." The presence of gold ornament on the spearhead makes it an exceptional find,
Named the Carnoustie Bronze Age sword, the artifact was found during an excavation of land at Carnoustie in Angus which is due to be turned into two football pitches.
According to Alan Hunter Blair, project officer at GUARD Archaeology, the spearhead was one of only a "handful" that had been found across Britain and Ireland and was of international significance.
The sword was part of a part of a wider hoard and it suggests the region in North East was inhabited warrrior-led society.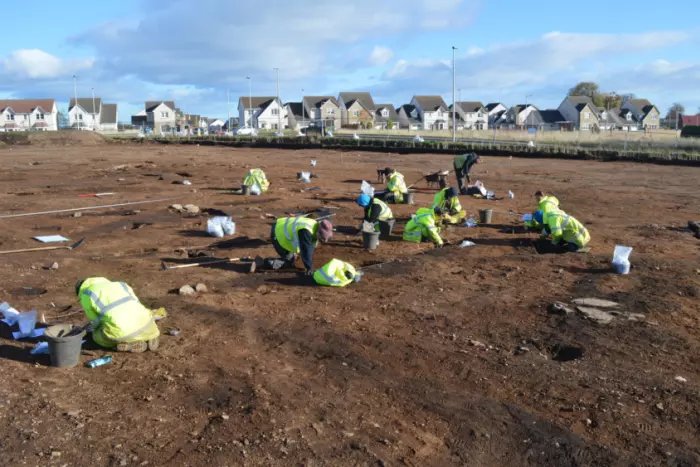 "The hoard of artefacts, which are around three thousand years old, is the find of a lifetime. It is very unusual to recover such artefacts in a modern archaeological excavation, which can reveal so much about the context of its burial," Blair said.
See also:
Stunning Reconstruction Of Caterthun Iron Age Forts In The Grampian Mountains, Scotland
Inchbrayock Stone: Pictish Samson Stone Carved With Biblical Symbols And Scenes
Enigmatic Stones Of The Picts: Unique Stone With Dragon-Like Creature And Cross Carving Found On Orkney
Picts: Facts And History About Mysterious People Of Northern Scotland
Incredible 5,000-Year-Old Temple Complex In Orkney Could Re-Write History Of Scotland
He thinks that gold decoration was probably added to this bronze spearhead to exalt it both through the material's rarity and its visual impact.
Within Britain and Ireland, only a handful of such spearheads are known – among them a weapon hoard found in 1963 at Pyotdykes Farm to the west of Dundee.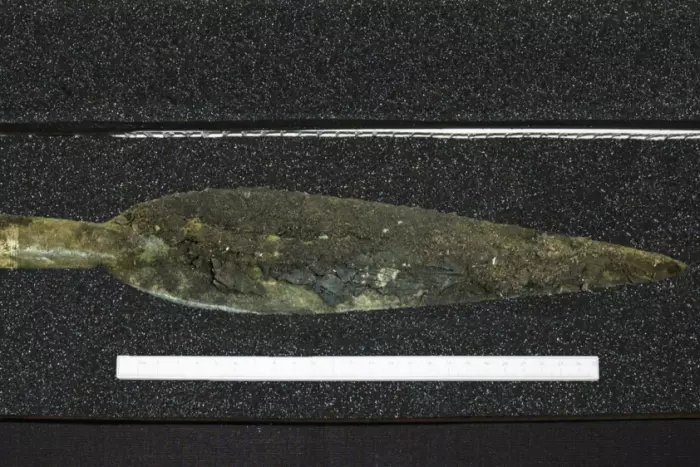 These two weapon hoards from Angus – found less than two miles apart – hint at the wealth of the local warrior society during the centuries around 1000-800 BC.
Further excavations in the area can shed more light on the warrior society and the remarkable ancient sword.
MessageToEagle.com
Expand for references