MessageToEagle.com – Cyrus the Great ordered the construction of Pasargadae during 559-530 BC.
It was the capital of the Achaemenid Empire – one of the largest empires in history – covering approximately 5.5 million square kilometers and spanning from the Balkans and Eastern Europe to the Indus Valley.
Pasargadae (also known as "Gates of Parsa") was located in the valley of the river Polvar, near the city of Shiraz, in Pasargad County, Iran.
In ancient times, eight or more dams regulated the river and stored water for irrigation.
The tomb of Cyrus the Great was also built in Pasargadae and was the most important monument in the city.
It has six broad steps leading to the sepulchre, the chamber of which measures 3.17 m long by 2.11 m wide by 2.11 m high and has a low and narrow entrance. Though there is no firm evidence identifying the tomb as that of Cyrus, Greek historians tell that Alexander III of Macedon believed it was.
See also:
Achaemenid Empire Was The World's Largest Ancient Empire
Legacy Of The Ancients: Cyrus the Great Cylinder – The Charter Of Human Rights
Tale-Ajori: Excavations In Fascinating Ancient City Of Persepolis, Iran
War Between Romans And Persians Lasted 721 Years: World's Longest Human Conflict In History
More Fascinating Ancient Mysteries
When Alexander looted and destroyed Persepolis, he visited the tomb of Cyrus and ordered Aristobulus, one of his warriors, to enter the monument. Inside he found a golden bed, a table set with drinking vessels, a gold coffin, some ornaments studded with precious stones and an inscription on the tomb.
No trace of any such inscription exists today and only Strabo reports that it read:
"Passer-by, I am Cyrus, who gave the Persians an empire and was king of Asia. Grudge me not, therefore, this monument…"
The Roman geographer Strabo of Amasia confirms in his 'Geography' that Pasargadae was built on the site where King Cyrus defeated the leader of the Medes, Astyages, in 550 BC. Building inscriptions found in the palace also confirm that Cyrus was indeed the builder of the town.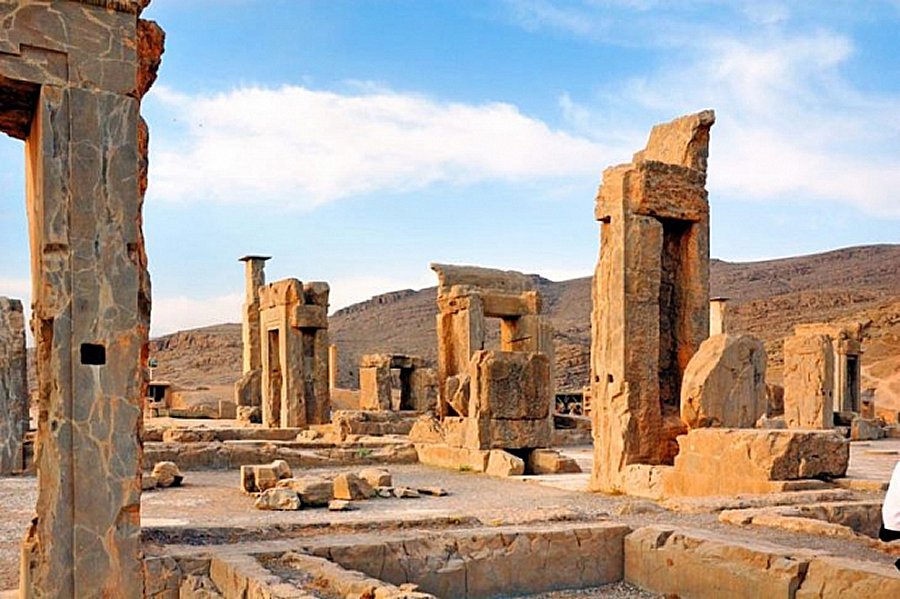 Pasargadae contained palaces and many other monumental structures; especially impressive and the oldest monument of Pasargadae was a citadel Tall-i-Takht ('throne hill') that overlooked a garden ('paradise') in the south, and the palace complex itself.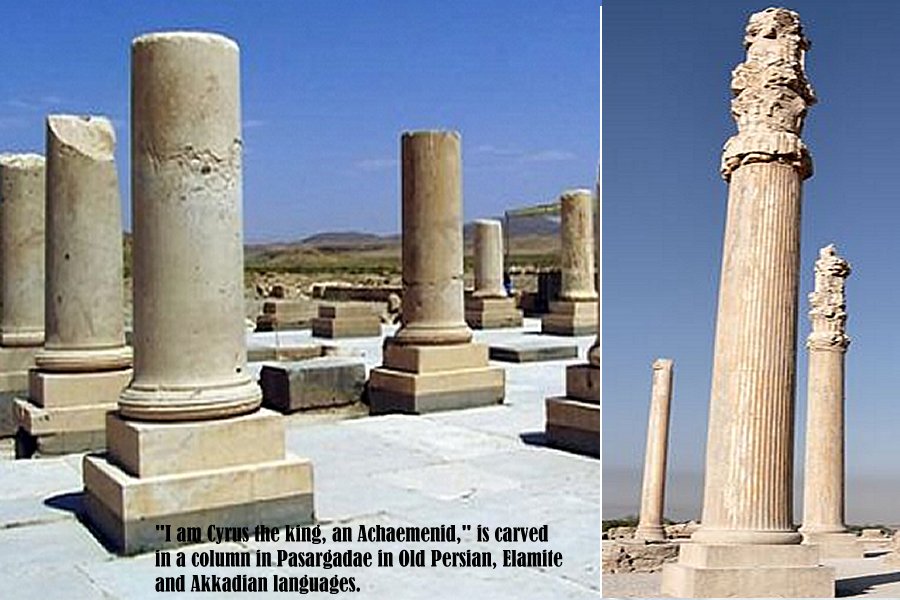 There is also Apadana, the many columned audience hall, the grand design by Darius I the Great (r. 522-486 BC); Apadana was part of the king Cyrus' palace and was approached from the south-east. Apadana structures were influenced by several elements from Phoenicia and Assyria and sculptures were created by the best stonemasons from Greek Ionia.
The Apadana structure is only mentioned in some building inscriptions; in one of Darius II (424-05 BC) and three of his son, Artaxerxes II (405-359 BC).
Copyright © MessageToEagle.com All rights reserved. This material may not be published, broadcast, rewritten or redistributed in whole or part without the express written permission of MessageToEagle.com
Expand for references