Chysauster: 2,000-Year-Old Romano-British Village Of Celtic Dumnonii Tribe In Cornwall
|
MessageToEagle.com – Chysauster is located approximately 5 km north of Penzance, in the Penwith District, in southwest Cornwall.
It is one of the most interesting examples of the Iron Age and Romano-British village located at 175 m above sea level. Made up of the so-called ''courtyard houses' (stone-walled homesteads), this remarkable ancient place was inhabited from about 100 BC to the 3rd century AD.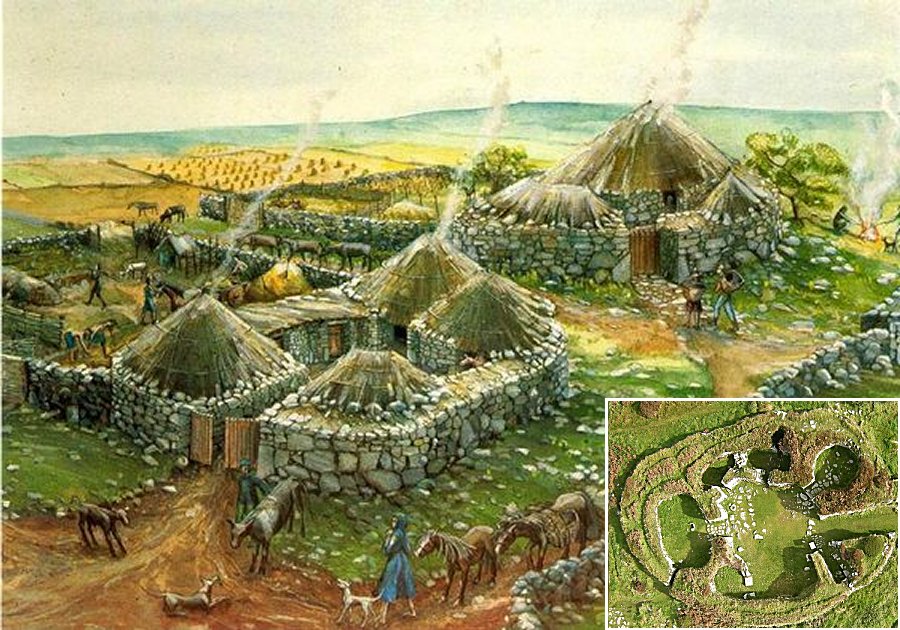 Today, at Chysauster, there are preserved only nine 'courtyard houses', each about 27 meters long and with its own internal courtyard, with main thatched rooms and several small ones leading off. Excavations at Chysauster, revealed that some of these rooms
Laid out in two rows of four, the houses form a 'village street' and are oriented on an east-west axis, with the entrance in the east. The east-west diameter is approximately 90 feet. A passage leads from the entrance to an inner courtyard of about 25 feet diameter.
This kind of building was only localized in two places, namely, on the Land's End peninsula ( in western Cornwall, England)  and the Isles of Scilly (an archipelago off the southwestern tip of the Cornish peninsula of Great Britain).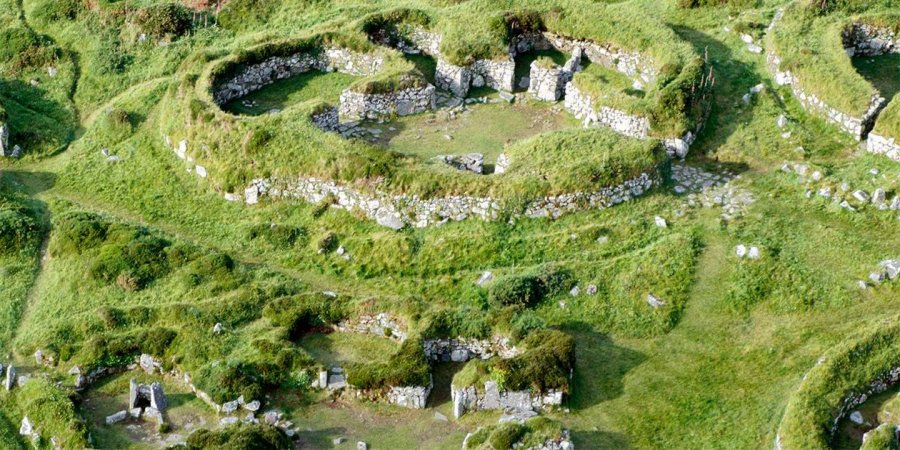 Outside the main group of houses, it has been found a separate stone house along with the remains of several outlying buildings in the surrounding fields.
An interesting although rather enigmatic construction unearthed by archaeologists, is a ruined, underground passage –'fogou', which may have extended more than 16 meters in length. A 'fogou'-like structures were often found in connection with Iron Age and Romano-British settlements, although their function is still not exactly known.
It could have been a hiding place or perhaps a cold storage used for preserving many different kinds of foods.
See also:
History Of Jarlshof – Thousands Of Years Of History With Traces Of Picts, Vikings And Scots
Hadrian's Wall: North-West Frontier Of The Roman Empire For Nearly 300 Years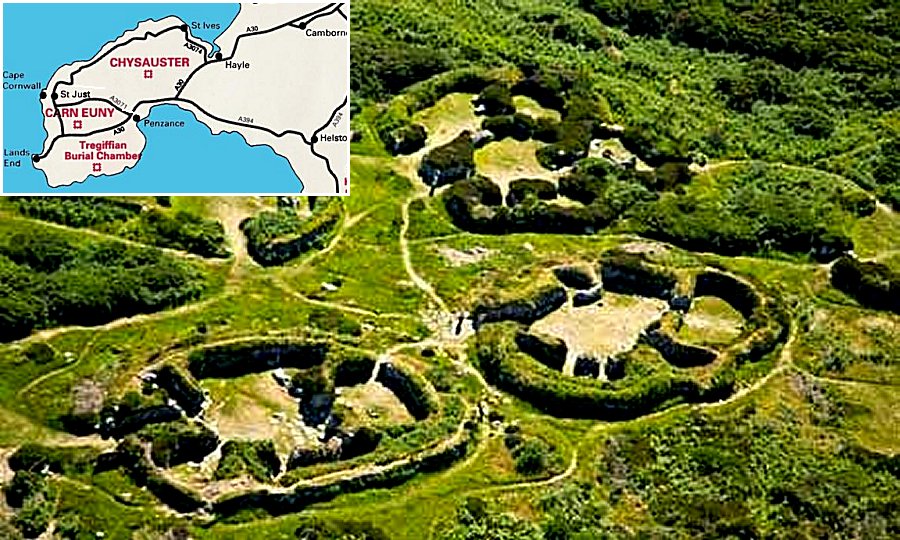 It is believed that the settlement was built by the ancient Celtic Dumnonii tribe.of Cornish Britons, who most probably predated the Roman Invasion. The Dumnonii are thought to have occupied relatively isolated territory in Cornwall, Devon, Somerset and possibly part of Dorset.
These people were farmers who produced cereal crops and kept goats and pigs.  Their settlement was largely self-sufficient.
The inhabitants of Chysauster occupied the site for about 100 years. They lived in the territory of the Kingdom of Dumnonia, the area now known as Devon and Cornwall (and some areas of present-day Dorset and Somerset) in the farther parts of the South West peninsula of Britain, from at least the Iron Age up to the early Saxon period.
The Kingdom existed between the 4th and 8th centuries, and the name comes from a celtic tribal people, possibly a group of tribes which predated the Roman Invasion. During the Roman period, they built native in form settlements and one of such unique sites is Chysauster.
They left this place and the reason for their departure is not known.
MessageToEagle.com 
Expand for references