Magnificent Pagodas In Indein Village And Undiscovered Secrets In The Myanmar Jungle
|
Jan Bartek – AncientPages.com – The Great Sphinx of Giza, Machu Picchu, Stonehenge, Moai statues, Petra, Ephesus, and many, many other magnificent ancient sites can be added to the list worthy of admiration to anyone interested in ancient history.
We tend to admire what we can see, but there are some remarkable places that are just as beautiful, but virtually unheard of, and here is one such example.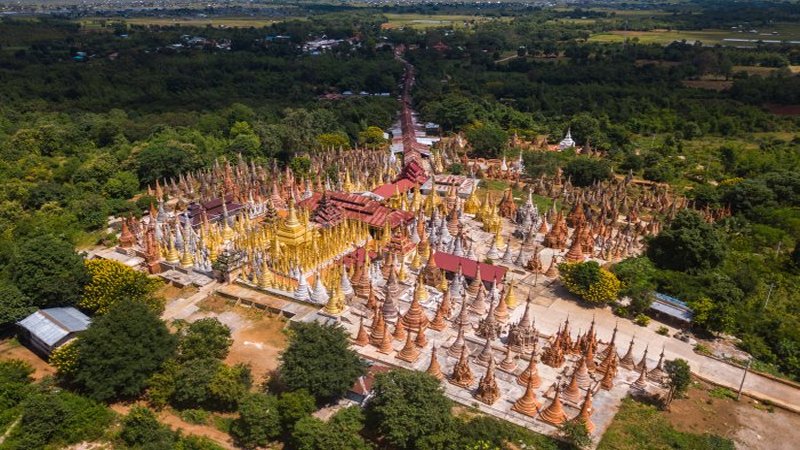 Beautiful pagodas in Indein Village on the Inle Lake, Myanmar. Credit: Glebstock – Adobe Stock
This place has not gone untouched by the influence of foreign tourism which has its advantages and disadvantages of course.
In the small Indein village west of Inle Lake in Myanmar (Burma) there is an extraordinary complex of stunning ancient pagodas that vary in size and shape.
Known as the Shwe Inn Thein pagodas these beautiful structures are believed to be a legacy of Ashoka, one of India's greatest emperors ruled almost all of the Indian subcontinent from 268 to 232 B.C.
"From the Volga to Japan his name is still honored. More living men cherish this memory today than have ever heard the names of Constantine or Charlemagne," H.G. Wells writes in the Outline of History. 1
The early part of his reign was undoubtedly bloodthirsty, but after witnessing the mass deaths of the Kalinga War, Emperor Ashoka changed as a person and converted to Buddhism.
Emperor Ashoka's importance in the history of India is great and his last words have been preserved on the Mansehra rock edicts.