Online Map Lets You Track The Wuhan Coronavirus In Real Time
|
Don Wood – MessageToEagle.com – The Wuhan coronavirus is spreading and the death toll is rising. Many people wonder which places have been affected by the dangerous outbreak, but false information can also spread quickly.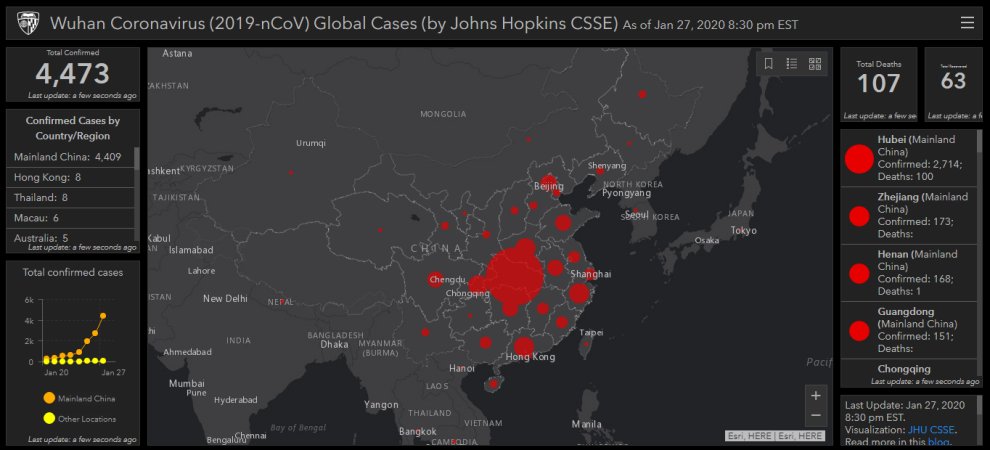 Business Insider reports, "China seems to have suppressed information about the illness in its early days.
At least eight people were arrested in China, accused of "publishing or forwarding false information on the internet without verification" about the coronavirus. Journalists reported being threatened and detained after reporting on the virus."
To prevent panic and stop the disinformation, scientists at Johns Hopkins University have created an online map that lets you track the outbreak using data from the Centres for Disease Control and Prevention, the World Health Organization, China's CDC, and other sources with geographic-information-system mapping.
You can find the map  – here
The map shows the number of confirmed cases by country and region. It reveals total deaths and total recoveries. Each red dot represents an outbreak, with the size corresponding to the relative size of the outbreak.
At this point, the Wuhan coronavirus has spread to Australia, Cambodia, Canada, France, Germany, Japan, Malaysia, Nepal, Singapore, South Korea, Taiwan, Thailand, the US, and Vietnam.
More countries may be added to the list soon. Patients with the new coronavirus,  known as 2019-nCoV have reported symptoms like fever, coughing, and difficulty breathing.
According to the New York Times Live Update, "the number of confirmed cases increased from 2,835 on Monday to 4,515 on Tuesday, according to the National Health Commission. The youngest confirmed case is a 9-month-old girl in Beijing.
Written by Don Wood – MessageToEagle.com Staff