Second Planet Orbiting Our Nearest Neighbor Proxima Centauri – Detected
|
Eddie Gonzales Jr. – MessageToEagle.com – The planet Proxima Centauri b may have a neighbor, researchers say.
Proxima Centauri – a small, low-mass star located 4.2 light-years (1.301 pc) away from the Sun in the southern constellation of Centaurus – is our nearest neighbor.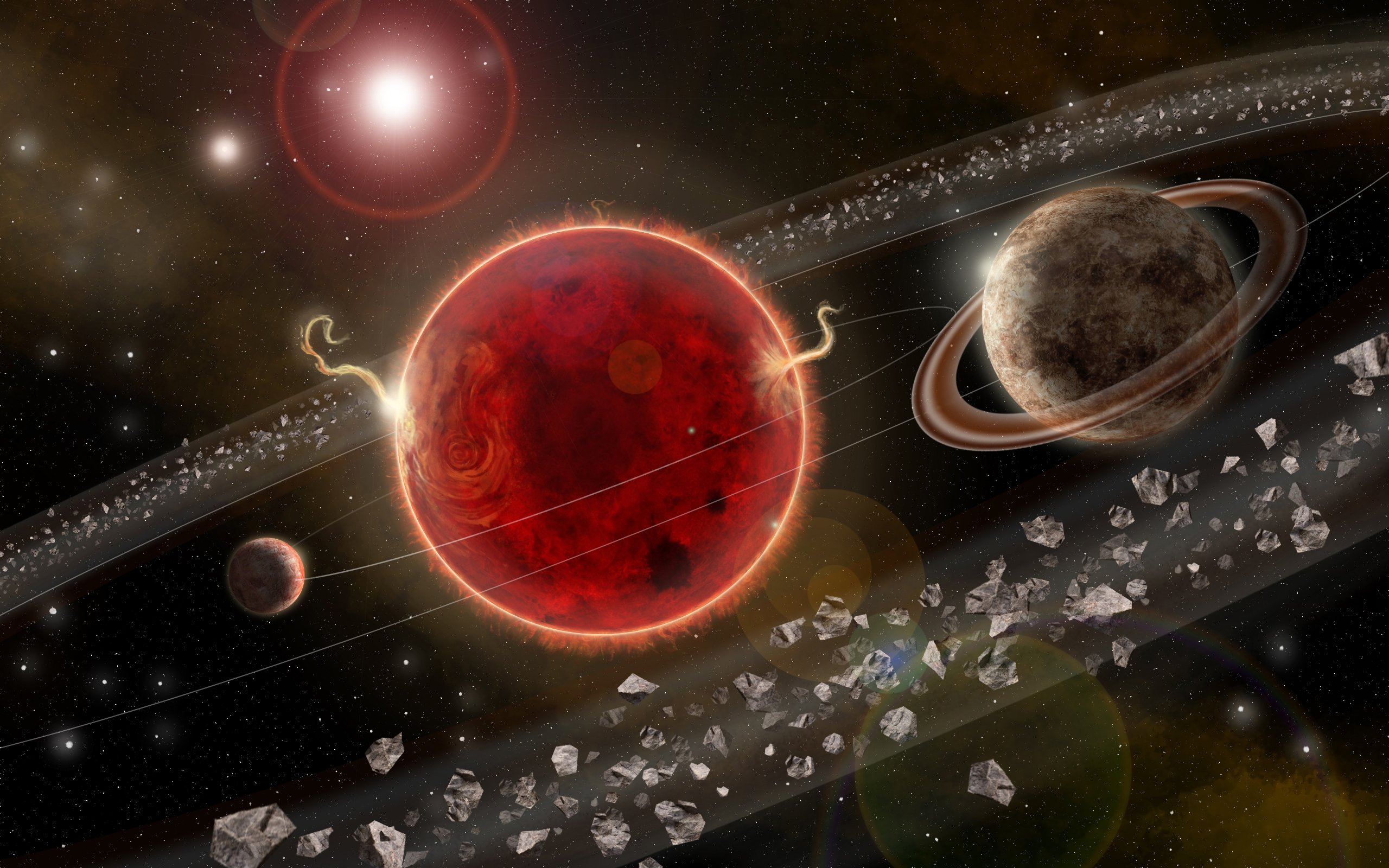 An artist's rendering of the Proxima Centauri system shows the newly discovered exoplanet Proxima c (on the right), which orbits its host star in about 5.2 years. The smaller Proxima b, shown on the left, was discovered in 2016. Proxima Centauri is just 4.3 light-years from Earth. Lorenzo Santinelli
We already know that Proxima Centauri hosts Proxima Centauri b – a planet orbiting the star at a distance of roughly 0.05 AU (7.5 million km) with an orbital period of approximately 11.2 Earth days. Its estimated mass is at least 1.3 times that of the Earth.
In their new paper, researchers Mario Damasso at the Observatory of Turin in Italy and Fabio Del Sordo at the University of Crete, report the discovery of Proxima c, a possible second planet with a minimum mass of 5.8 times as massive as Earth and orbits its star about once every five Earth years.
The team analyzed observations of Proxima Centauri made by HARPS (the High Accuracy Radial velocity Planet Searcher instrument), which is installed on a telescope at the European Southern Observatory's La Silla Observatory in Chile.  In a large amount of data between 2000 and 2017, they were looking for the "wobble" signature in Proxima's Centauri's light spectrum.
This signature would indicate the presence of a planet; exactly the same technique that allowed scientists to confirm the existence of the exoplanet, Proxima b in 2016.
"We show that the existence of the planet can be ascertained, and its true mass can be determined with high accuracy, by combining Gaia astrometry and radial velocities…" the team writes in the paper.
Given its distance from Proxima Centauri (1.5 times further out than Earth is from the Sun), the planet Proxima c is too cold, approx. -233° C (387 F) to have liquid water, which is considered the most important ingredient for both habitability and life as we know it.
It is simply too far outside the star Proxima Centauri's habitable zone. Earlier discovered Proxima b, is inside the habitable zone, however, the distance from the exoplanet to its host star is only one-twentieth of the distance from the Earth to the Sun. Radiation from the red dwarf might render it inhospitable.
Because of its tight orbit, Proxima Centauri b receives approx. 400 times more X-ray radiation than the Earth does.
Written by Eddie Gonzales Jr. – MessageToEagle.com Staff