Unique Viking Age Runestone With A Cross And Animal Biting Its Own Tail Discovered By Farmer In Sweden
|
Ellen Lloyd – MessageToEagle.com – How many more stunning unknown runestones could still be scattered across Sweden? We cannot answer that question, but we can say with certainty a farmer in Sweden made a startling and unexpected discovery.
When the farmer Lennart Larsson was ploughing the field, he suddenly noticed his tractor had hit something solid. It turned out to be a very large stone and the farmer thought he could use it as a doorstep. He left the stone on the field, but when he returned some days later to pick it up he realized this was by no means an ordinary stone.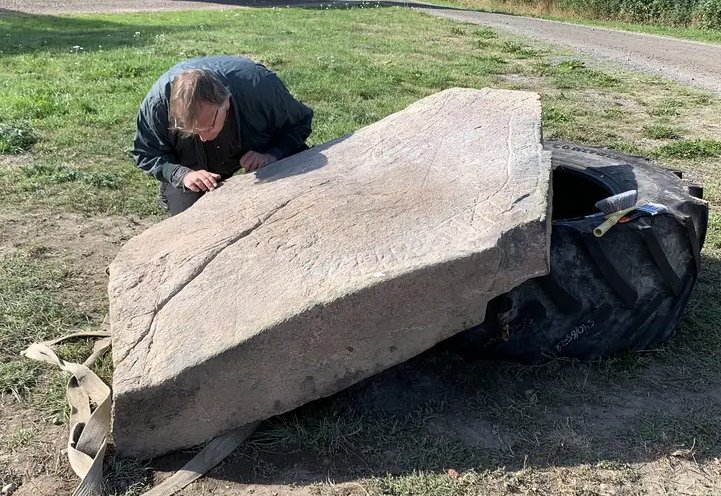 This runestone has been found by a farmer in Loftahammar, Sweden. Credit: Västervik Museum 
The other side of the stone was filled with runic inscriptions!  On the stone, there is a carving of an animal biting its own tail. We can perhaps presume this is a depiction of the famous Norse Midgard Serpent. In ancient times, the Vikings imagined the world completely encircled and supported by the Great Divine World Serpent, Jormungand.
Among the engravings, there is also a cross, which means the stone was raised as a memorial for a deceased.
Rune expert Magnus Källström at the Swedish National Heritage Board (Riksantikvarieämbetet) who examined the runic inscription has already hailed this the find of the year pointing out it was a long time ago an unknown runestone was found in Sweden.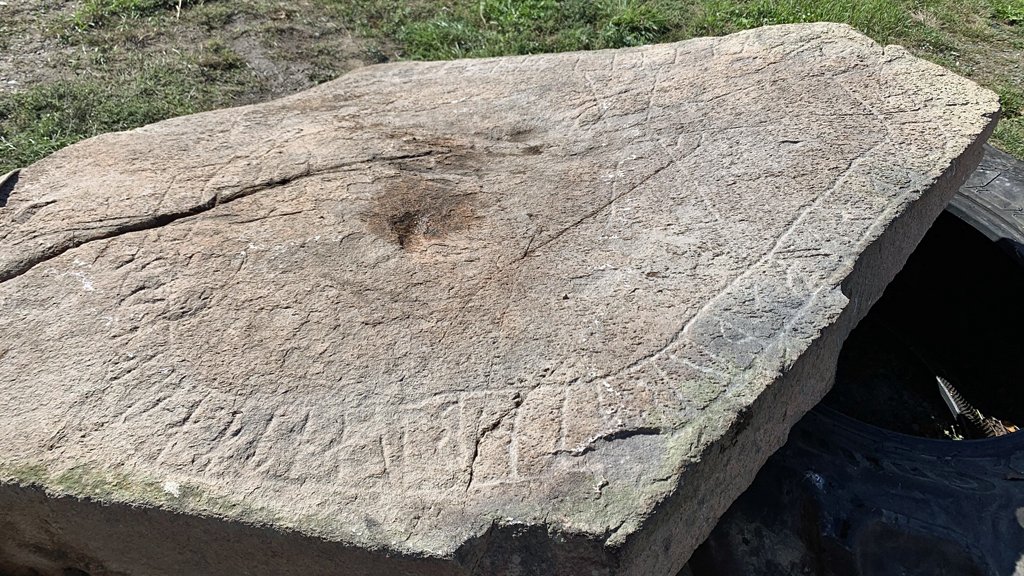 Runic inscriptions along with a cross and an animal biting its own tail can be admired on the stone. Credit: Västervik Museum 
The discovery of this precious and previously unknown runestone was made in Loftahammar, a locality situated in Västervik Municipality, Kalmar County.
Runes played an important part in the lives of the Vikings. Unfortunately, there are few remains of runic writing on paper from the Viking era. Nevertheless, thousands of stones with runic inscriptions have been found where Vikings lived.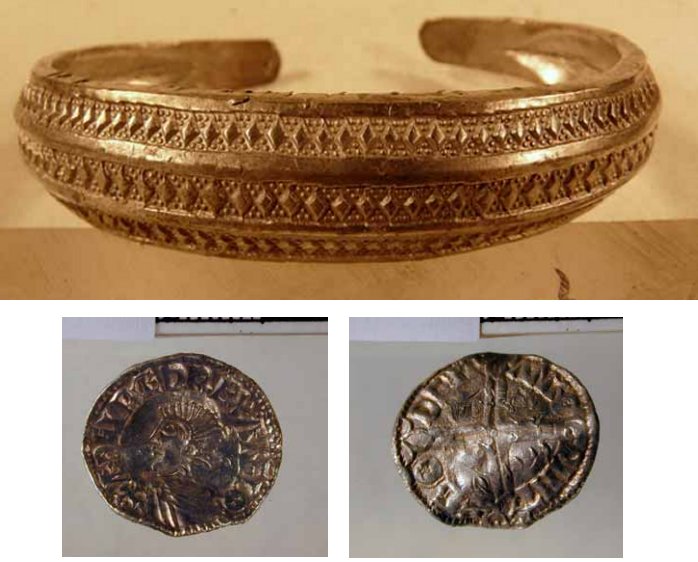 Archaeologists have previously unearthed Viking Age coins and bracelets at the site. Credit: Kalmar Museum
The newly discovered runestone in Västervik is about 2 meters long having a width of 1 meter.  It has been dated to the first half of the 11th century.
During the Late Iron Age, Hellerö outside Loftahammar was an important place where archaeologists have previously discovered silver coins from the Viking Age along with several beautiful Viking bracelets.
According to the Kalmar Museum, the preciously unearthed Hellerö treasure offers evidence this was an important site where trading took place. Thre is a promising possibility more valuable Viking treasures can be discovered in Hellerö in the near future.
According to Veronica Palm at the Västervik Museum, the runestone is in very good condition and it doesn't happen often archaeologists can find such well-preserved runestones.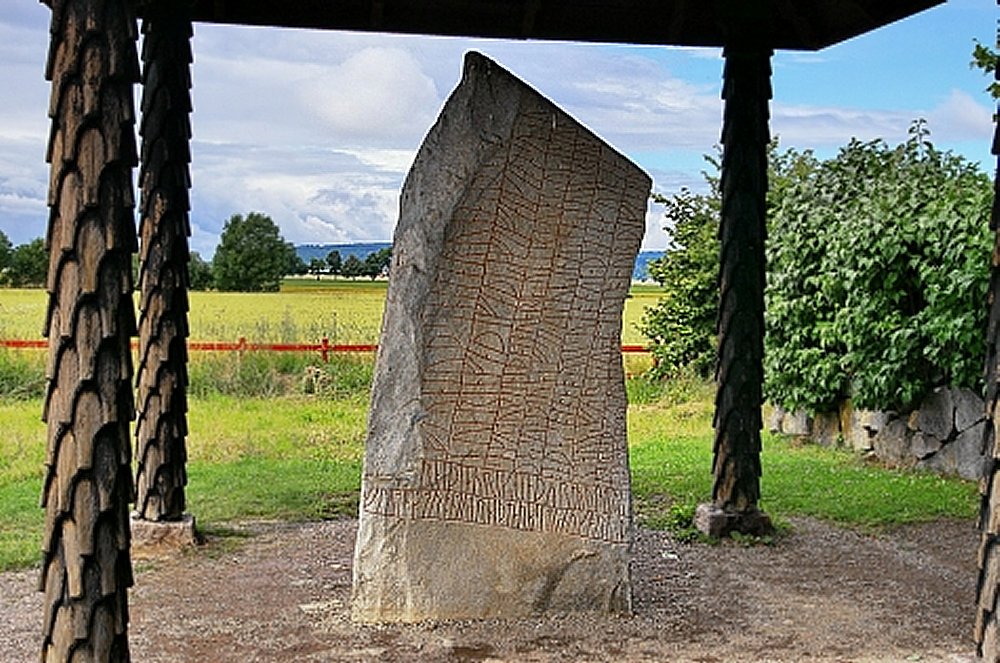 The Rök Stone has as many as 725 runes – being of a Swedish–Norwegian runic alphabet of 16 characters – bear readable (sometimes difficult to interpret) text containing verses of epic character, allusions to heroic myths, hero songs, legends, and secret formulas, probably a curse. Photo:visitostergotland.se
The Hellerö runestone may not be as extraordinary as the Rök Stone that has the longest Runic inscription ever discovered, but it is a fascinating discovery that provides us with more knowledge about the Viking Age.
The Viking Age runestone will now be cleaned, preserved, and put on display at the museum.
Written by  Ellen Lloyd – MessageToEagle.com
Copyright © MessageToEagle.com  All rights reserved. This material may not be published, broadcast, rewritten or redistributed in whole or part without the express written permission of MessageToEagle.com