How Quickly The Universe Is Expanding? – New Answers
|
Eddie Gonzales Jr. – MessageToEagle.com – A novel approach to quantifying one of the most fundamental laws of the universe, has been made by a team of Clemson University astrophysicists.
"Cosmology is about understanding the evolution of our universe – how it evolved in the past, what it is doing now and what will happen in the future," Marco Ajello, an associate professor in the College of Science's department of physics and astronomy, said in a press release.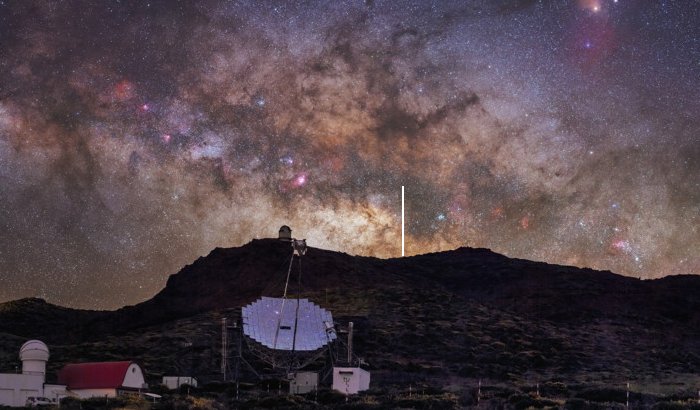 The team's analysis paves the way for better measurements in the future using telescopes from the Cherenkov Telescope Array. Image Credit: Photo courtesy of Daniel López/IAC
"Our knowledge rests on a number of parameters – including the Hubble Constant – that we strive to measure as precisely as possible. In this paper, our team analyzed data obtained from both orbiting and ground-based telescopes to come up with one of the newest measurements yet of how quickly the universe is expanding."
The concept of an expanding universe was advanced by the American astronomer Edwin Hubble (1889-1953), who is the namesake for the Hubble Space Telescope. Hubble originally estimated the expansion rate to be 500 kilometers per second per megaparsec, with a megaparsec being equivalent to about 3.26 million light-years.
Hubble concluded that a galaxy two megaparsecs away from our galaxy was receding twice as fast as a galaxy only one megaparsec away. This estimate became known as the Hubble Constant, which proved for the first time that the universe was expanding.
With the help of skyrocketing technologies, astronomers came up with measurements that differed significantly from Hubble's original calculations – slowing the expansion rate down to between 50 and 100 kilometers per second per megaparsec.
See also:
Proof Of How The Universe Is Changing
Researchers compared the latest gamma-ray attenuation data from the Fermi Gamma-ray Space Telescope and Imaging Atmospheric Cherenkov Telescopes to devise their estimates from extragalactic background light models.
This novel strategy led to a measurement of approximately 67.5 kilometers per second per megaparsec.
"What we know is that gamma-ray photons from extragalactic sources travel in the universe toward Earth, where they can be absorbed by interacting with the photons from starlight," Ajello said.
"The rate of interaction depends on the length that they travel in the universe. And the length that they travel depends on expansion. If the expansion is low, they travel a small distance. If the expansion is large, they travel a very large distance. So the amount of absorption that we measured depended very strongly on the value of the Hubble Constant. What we did was turn this around and use it to constrain the expansion rate of the universe."
Written by Eddie Gonzales Jr. – MessageToEagle.com Staff