Incredible Man-Made Gold Pyramid In North America Reveals Evidence Of Healing Effects
|
Cynthia McKanzie – MessageToEagle.com – This incredible structure is the largest 24-karat gold-plated object in North America.
What is astonishing about the man-made pyramid is that it has apparently revealed evidence of healing effects.
People have observed that plants grew three times as fast in the pyramid than outside it. They also say that the water is affected by the pyramid's power and therefore has unique properties that are good for all living beings.
The six-story-tall, 17,000-square-foot Gold Pyramid House was built in 1977 by Jim and Linda Onan as a private residence for his family in Wadsworth, Illinois.
Located on an island and surrounded by a giant moat, the Pyramid House has many remarkable features, including a 50-foot statue of King Tut, a metal palm tree and, a four-car garage topped by three smaller pyramids.
Jim Onan who always admired Egyptian culture was captivated by the theory that pyramids at Giza generate energy.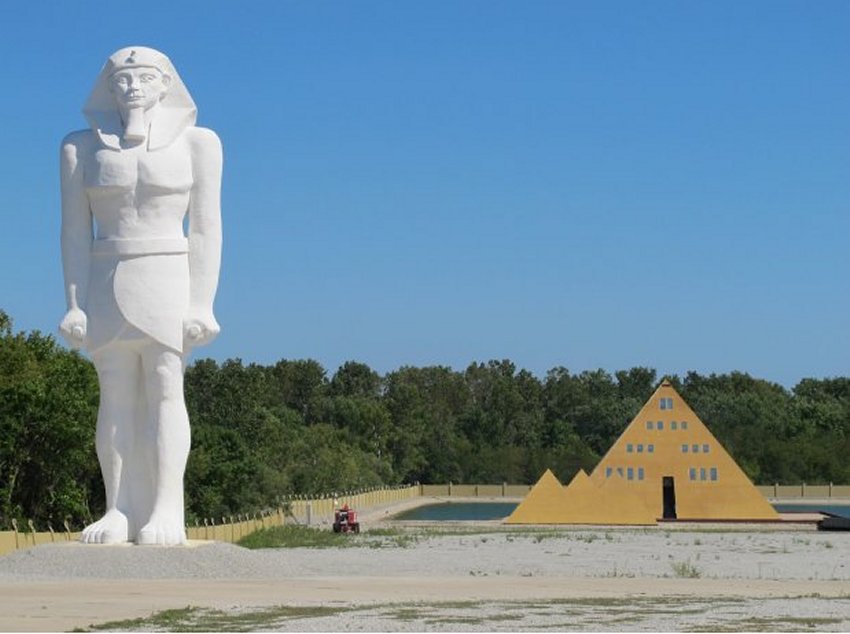 According to Russ Michael, author of the book "Healing Pyramid Energy", "top scientists in Russia started more than two decades ago doing serious scientifically tested and documented pyramid research and development.
They based their work on Dr. Patrick Flanagan's best selling book, Pyramid Power, which disclosed to the world how to use pyramids in the early 1970s. The Russian scientists did indeed unveil a host of astounding, powerful and naturally beneficial healing energies and fields within and around various heights and differently angled pyramid structures that serve new and already known major Earth-changing purposes. "
Jim Onan's interest in the theory of "pyramid power" led him to build small pyramids around his home and people realized that when they put their hands above this small pyramid they felt a weird sensation, a vortex of energy coming from the top of the Pyramid.
He kept building small pyramids and then decided to build a little bigger one, a 13-foot pyramid in his backyard to experiment on a larger scale.
One of the Onan's sons who was a botanist suggested that they should grow plants inside the Pyramid and so they did. Their experiment revealed that plants grew three times as fast in the pyramid than outside it.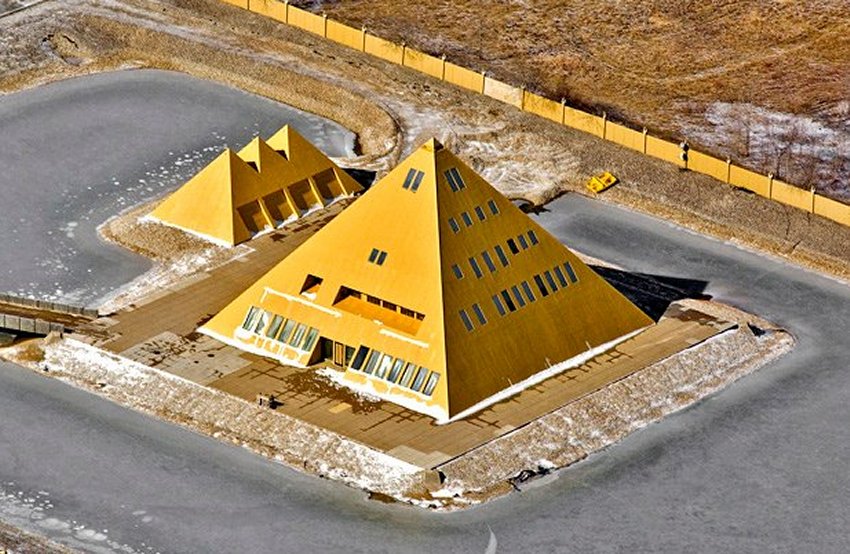 They suddenly saw how "the middle of the home started bubbling up with water and the spring water started entering the first floor (the bottom) of the pyramid.
Astonished and confused, they scrapped the plans to have an indoor pool on the first floor of the pyramid and instead had to bring in experts to reroute the water to funnel it out of the pyramid home and into the surrounding area.
Some say that the shape of the pyramid itself helped to bring this spring to life and fill the surrounding area with spring water," Healthy Wild and Free reports.
"One man named Ralph who was working on this Pyramid in Illinois drank the spring water everyday while working on the pyramid and he came back from his doctor reporting that his blood pressure was lower.
Jim thought Ralph was crazy and told anyone that they could take the spring water to drink themselves and people did, and many claimed to feel better or to have certain ailments cured.
This could all be the placebo effect (mind over matter) or there could be some validity as we now know that water is living and to charge water and for it to be alive has more health value. Springwater is already the best water you can get and for it to be positively charged (if it was in some way) then there could be potential there."
So, what can pyramids potentially do for mankind?
Increase Food/Plant Growth by up to 300% (maybe more?)
Bring Water and Life to an Area (spring water erupted from the earth after this structure was built)
Stone-built pyramids (10's of thousands of years old) have higher levels of negative ions which are great for health.
charge water to have more life force and healing power.
Today, the Golden Pyramid house is a major tourist attraction. If you are in the area why not pay it a visit and see for yourself if the water has healing properties. Visitors can admire King Tuts tomb, tour the inside of the pyramid, the public areas of the home and discover exciting artifacts in the gift shop which is open by request after tours.
You can learn more about this gold pyramid – here
Written by Cynthia McKanzie – MessageToEagle.com Staff Writer