Mystery Of The 1,200-Year-Old Viking Pot And Its Hidden Treasured Revealed
|
MessageToEagle.com – In September this year about 100 precious ancient artifacts were found in Dumfries, Scotland. Among them was a 1,200-year-old Viking pot that scientists could not open. What was hidden inside?
The find was deemed one of the most significant Viking hoards ever discovered in the UK, but the pot's contents remained a mystery.
Within the find is an early Christian solid silver cross from the 9th or 10th centuries.
The cross is engraved with decorations that, experts say, are highly unusual, which Mr McLennan believes may represent the four Gospels – Matthew, Mark, Luke, and John.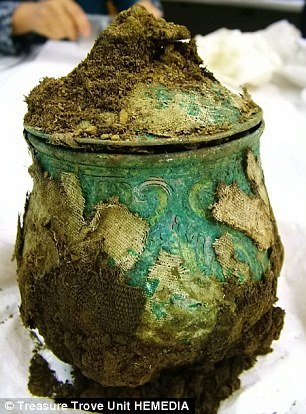 It was found among dozens of silver arm-rings and ingots two feet below the surface.
Further investigations uncovered a second level trove which is of considerably higher quality than the first.
It includes possibly the largest silver pot from the Carolingian dynasty discovered, which could be up to 1,200-years-old.
Other finds include a gold ring, and a gold bird pin.
The hoard falls under the Scots law of treasure trove, and is currently in the care of the Treasure Trove Unit.
For some time, archaeologists were unable to open the mysterious Viking pot to see what was inside, but now with help of a scan it is possible to see the hidden treasures of the Vikings.
The object's weight indicated the pot was filled with something.
A series of scans conducted at the Borders General Hospital, Scotland, revealed the pot contains up to at least five silver brooches and an ornate bead.
Inside were also 20 silver, gold and ivory items.
Metal detectorist Derek McLennan, who found the Viking pot, said the latest discovery was 'beautiful and exciting'.
"It brought it all back to me when I saw what was inside the pot,' he continued.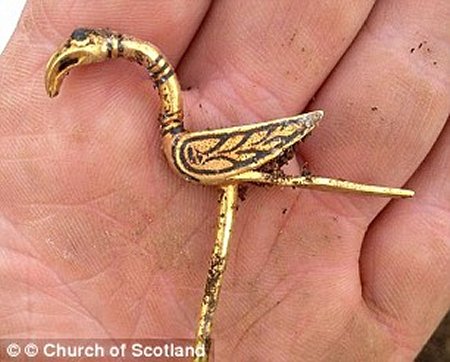 I was like a kid looking in the sweet shop window unable to touch anything being on the other side of the glass.
See also:
Beautiful Ancient Viking Jewelry Made By Skilled Craftsmen
Nothing else had been on my mind for two-and-half-months than seeing what was inside the pot, and then seeing it, there was a rush of emotion and was incredibly exciting.
I was absolutely amazed by what was inside the pot. There seems to be 20 plus artifacts in the pot, while most of them seem to be broaches of some sort.
It's a real mishmash of artifacts. Not everything comes across clear as there are different types of metal in there.
MessageToEagle.com